Connecting the Chamber of Commerce with the Community
As this world is rapidly changing, we are keeping up by providing more information that is relevant to our members, to the community, and to visitors to Murphy NC, Andrews NC ... and the Western North Carolina, North Georgia and East Tennessee region. Please check often for our expanding #Where WNC Begins Blog that will keep you informed (and entertained) about what's happening with our Chamber Members, the local economy, and other important matters that affect everyone.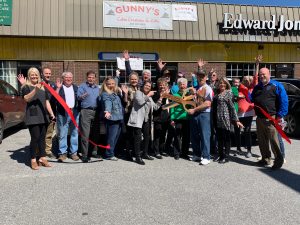 Joining them are Dr. Donna Tipton-Rogers of Tri-County Community College, Jason Forrister of Murphy High School, Tony Powell, Dave Stevens of Cherokee Scout, Brenda Mahoney of Rocking M Retreat, Chamber Ambassador Elo-ly Bailey, Cherokee County Chamber of Commerce Director Sherry Raines, Chamber Ambassador Corey Bailey, Aggie and Doug Heath, Rachel Grano of Mother's Hemp, Bruce Lazarus of iServe Residential Lending, Becky McConnell, Shellee Hendricks, Ambassador Sherry Palmer, and Daniel McNabb of Hiwassee Dam Schools.