Connecting the Chamber and the Community
... or scroll through the embedded newsletter below.
FORKS & CORKS 2022 - BEST EVER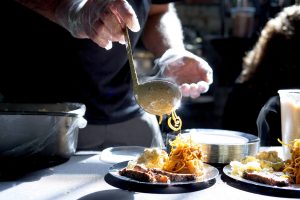 Full Width Template Cody Allen of Legends, Steakhouse in Murphy, NC, pours the finishing touches on a signature dish at the 2022 Forks and Corks event held June 2, at the historic Hackney Warehouse. Forks and Corks 2022 was a great time! First and foremost, we wanted to express our gratitude to everyone who attended,…
or ... a stroll, a swim, or a much needed and relaxing break.
The Cherokee County Chamber of Commerce extends a hearty THANKS to The Cherokee County Geographic Information Systems (GIS) Department for creating this wonderful resource that answers one of the most often-asked questions that we get: Where are the hiking, biking trails, kayak and canoe put-ins, and waterfalls in Cherokee County, North Carolina.