For the latest information regarding National Forests in North Carolina, please check out the Forest Service website.
Our public lands offer more than 245 miles of bike trails.  In addition, forest roads are also open for mountain biking, unless otherwise signed.
The Ramsey Bluff Bike Trail System is located at the Hanging Dog Campground area, and offers under-utilized adventure in Mountain biking, hiking, and cross-country running. The eight mile labyrinth of trails is actually a group of connected loops, allowing an interesting variety of combinations for repeat visitors to explore. The trail difficulty ranges from easy to moderate, and range from 1500 to 1900' in elevation. The trail system has two good access points with parking:  the Upper Parking area above the Boat Launch, and Iceberg Hill on Ramsey Bluff Road. Restrooms are near the Boat Launch trailhead.
Jack Rabbit Trail
Jackrabbit Mountain trail system provides access to over 14 miles of trails with a main central loop, which is easy and nearly level, and has junctions with several more difficult side trails, traveling to some interesting destinations such as ridgetops and beaches.
Directions
From Murphy, follow Hwy 64 for 19 miles and turn right on Hwy 175 South. Go 1 mile and turn right to stay on Hwy 175, crossing a long one-lane concrete bridge over an arm of the lake. Go 2.5 miles and turn right onto Jack Rabbit Road. Bear left after 250 ft., staying on Jack Rabbit Rd. The signed parking area is on the left after about 1/2 mile.
Google Map Coordinates for Jack Rabbit Trail Head
Fires Creek Recreation Area
The 25-mile Rim Trail in the Fires Creek Backcountry Area climbs the ridge around Fires Creek and makes a large loop. The trail offers vistas as it crosses several high elevation balds. From the Leatherwood Falls Picnic Area, a 0.7 mile loop goes to Leatherwood Falls.
Directions:
From Murphy, travel US 64 towards Hayesville. At Hills Store turn left on Fires Creek Road (NC175) for 2.5 miles, left on Fires Creek Wildlife Road (SR 1344) for two miles. The recreation center is on the left after the bridge.
Google Map Coordinates for Fires Creek Picnic Area
Ocoee Whitewater Center
Boasting more than 20 miles of trails, this trail system has it all. This trail has tons of options from a hke with history along the 2.4 mile restored segment of the Old Copper Road Trail, or an easy 1 mile stroll around the Olympic course at the Whitewater Center to a screaming 1.5 mile mountain bike ridge on the Thunder Rock Express.
Directions
Located on Hwy 64 approximately 6 miles west of Ducktown, Tennessee. Day use parking is available in the lower lot at the Ocoee Whitewater Center.
Google Map coordinates for Ocoee Whitewater Center
River Walk
The approximate 3 miles of easy walking trails start at the far end of Konehete Park along the Valley River, and end at the Old L&N Depot by the Hiwassee River bridge. Enjoy walking through Konehete Park then along the river past the historic Leach Place and the abandoned railroad trestle to the Historic L&N Depot.
Directions
The Murphy River Walk is located in Downtown Murphy and has several access points including the L&N Depot, McClelland Street, and Konehete Park.
Google Map coordinates for Murphy River Walk
Appalachian Trail
There are two entrances to the Appalachian Trail that are easily accessible from our area and both are 40 minutes away! You can get on the AT at the Nanatahala Outdoor Center in the Nanatahala Gorge on Hwy 74 or you can get on at Winding Stair Gap on the top of Franklin Mountain on Hwy 64. There are many other short day-hike options!
Piney Knob Trail
Piney Knob Trail System, 22.3 miles of recreational hiking and mountain biking trails on the 700+ acre Murphy Watershed property off of Piney Knob Hill Road. All trails are dirt single-track trails and built in accordance with International Mountain Bike Association (IMBA) standards.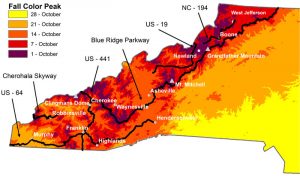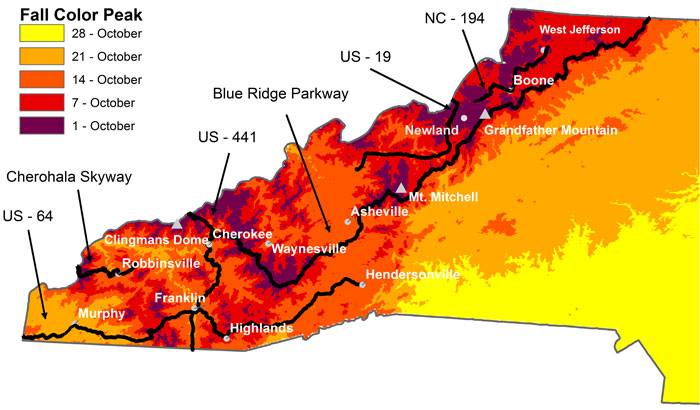 Full Width Template Conceived by Howard Neufeld and Michael Denslow Map Constructed by Michael Denslow So as to not "bury the lead" fall foliage fiesta looks like it will peak during the second and third weeks in October. However, nature has its own way of doing things, and a spate of soggy days may spell…
 Need Help Getting Around?
Do you need help getting around or planning your next adventure in the great outdoors? Start with our "outdoor life" business directory listing and find the service that can help make your visit to our region memorable.