Connecting the Chamber and the Community
... or scroll through the embedded newsletter below.
FORKS & CORKS 2022 - BEST EVER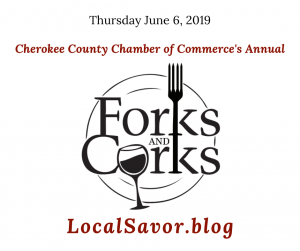 This annual event hosted by the Cherokee County Chamber of Commerce has quickly become a favorite among residents and tourists alike. Forks & Corks is the perfect excuse to visit the mountains or plan a night with friends as we savor the local flavor. Join us at The Hackney Warehouse as we come together to…
or ... a stroll, a swim, or a much needed and relaxing break.
The Cherokee County Chamber of Commerce extends a hearty THANKS to The Cherokee County Geographic Information Systems (GIS) Department for creating this wonderful resource that answers one of the most often-asked questions that we get: Where are the hiking, biking trails, kayak and canoe put-ins, and waterfalls in Cherokee County, North Carolina.