Connecting the Chamber and the Community
... or scroll through the embedded newsletter below.
FORKS & CORKS 2022 - BEST EVER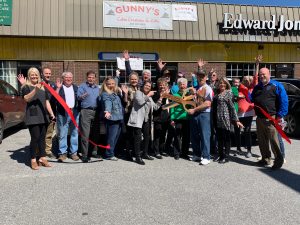 Joining them are Dr. Donna Tipton-Rogers of Tri-County Community College, Jason Forrister of Murphy High School, Tony Powell, Dave Stevens of Cherokee Scout, Brenda Mahoney of Rocking M Retreat, Chamber Ambassador Elo-ly Bailey, Cherokee County Chamber of Commerce Director Sherry Raines, Chamber Ambassador Corey Bailey, Aggie and Doug Heath, Rachel Grano of Mother's Hemp, Bruce Lazarus of iServe Residential Lending, Becky McConnell, Shellee Hendricks, Ambassador Sherry Palmer, and Daniel McNabb of Hiwassee Dam Schools.
or ... a stroll, a swim, or a much needed and relaxing break.
The Cherokee County Chamber of Commerce extends a hearty THANKS to The Cherokee County Geographic Information Systems (GIS) Department for creating this wonderful resource that answers one of the most often-asked questions that we get: Where are the hiking, biking trails, kayak and canoe put-ins, and waterfalls in Cherokee County, North Carolina.