Connecting the Chamber and the Community
... or scroll through the embedded newsletter below.
FORKS & CORKS 2022 - BEST EVER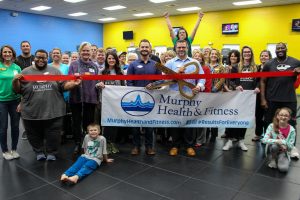 The Cherokee County Chamber of Commerce enthusiastically kicked off the Grand Re-Opening of Murphy Health & Fitness Thursday February 28th with a Ribbon Cutting. The festivities included Murphy's Chophouse and Daily Grind & Wine catering, the Kona Ice of Blairsville truck, door prizes, membership specials, and the #ShaveThePounds weigh-in with 2030 Director, Murphy Mayor Rick Ramsey, Andrews Mayor James Reid, and Tim Radford of WKRK.
or ... a stroll, a swim, or a much needed and relaxing break.
The Cherokee County Chamber of Commerce extends a hearty THANKS to The Cherokee County Geographic Information Systems (GIS) Department for creating this wonderful resource that answers one of the most often-asked questions that we get: Where are the hiking, biking trails, kayak and canoe put-ins, and waterfalls in Cherokee County, North Carolina.