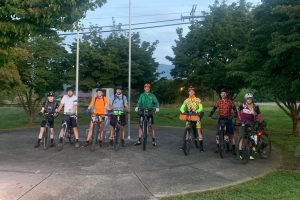 Words by Graham Grant (this year's first finisher)
The Huckleberry 250 is a 250-mile bikepacking route through the Blue Ridge Mountains of far western North Carolina with around 30,000 feet of elevation gain. The route starts and ends in Andrews, a small and stunningly beautiful town nestled in a valley surrounded by towering forested peaks. The highlights of the route are climbs of five major peaks in the Nantahala National Forest. Four of these have fire towers perched at the summits that can be climbed, and three require hike-a-bikes to reach the top. These climbs are connected by a network of gravel forest service roads, pavement, and singletrack mostly through rural farm country and national forest. Much of the route runs through ancestral Cherokee lands.
Continue reading.....