2022 Forks and Corks – Best Ever!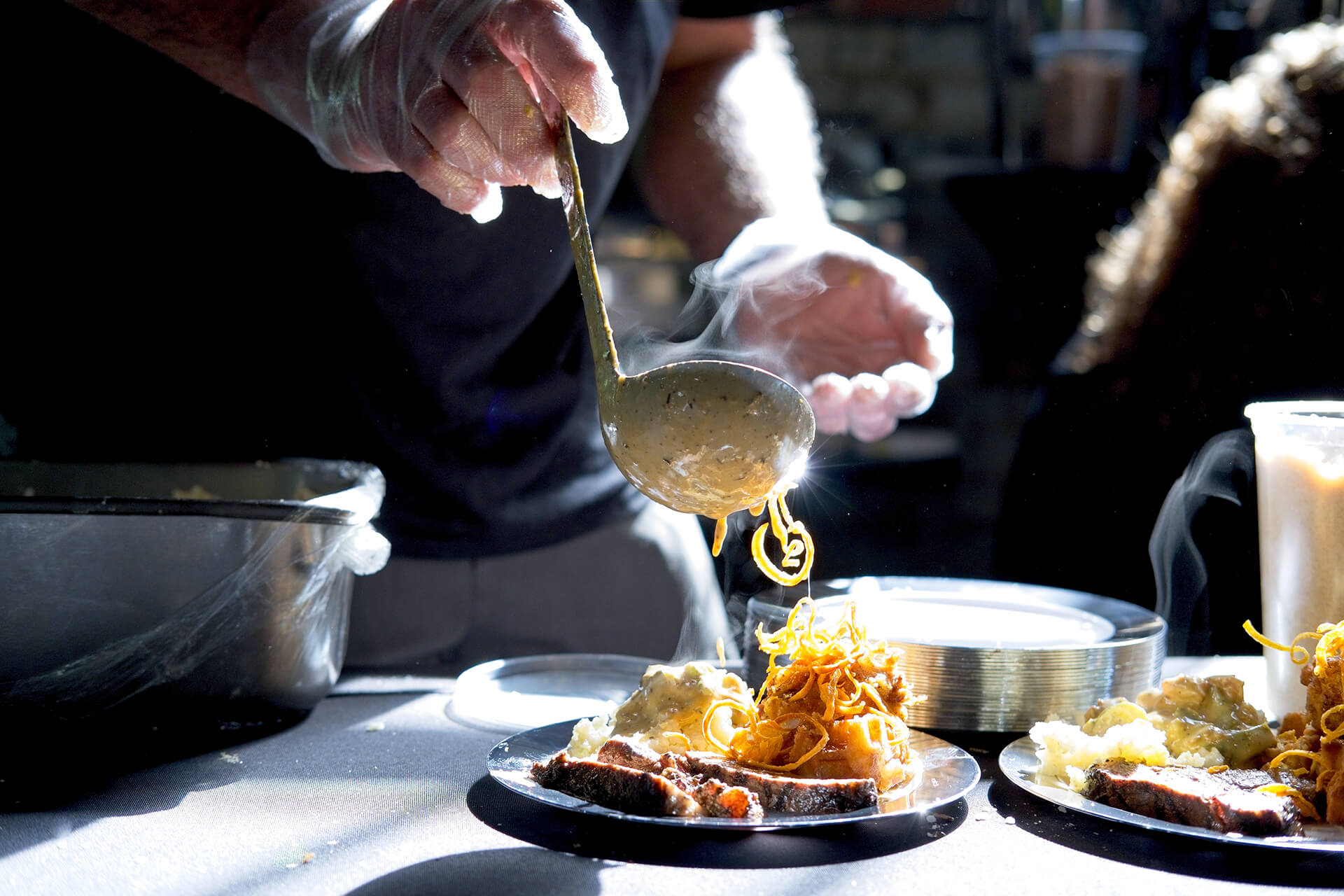 Forks and Corks 2022 was a great time! First and foremost, we wanted to express our gratitude to everyone who attended, volunteered, sponsored, donated, and especially to those who participated as a vendor. But mostly we wanted let those who missed it know what they missed. 
Forks and Corks Local Savor 2022 took place Thursday, June 2, 2022, at The Hackney Warehouse. Not having this event in person for two years gave us an opportunity to re-evaluate and hopefully improve the event. While the event has always been wildly popular, we recognized certain issues as it grew year to year. For instance, in 2019, with over 360 guests attending it was crowded and hard to navigate. Also because of the crowded conditions and at times mildly controlled chaos some guests missed some vendors and many of the vendors were overwhelmed. That had to be corrected.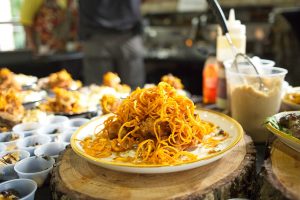 This main purpose of this event is to showcase regional food and beverage allowing guests to sample some things they might never have tried without this platform. In turn this exposure benefits the restaurants, breweries, and wineries who participate with a new customer base and marketing outreach. 
Our solutions were reservations with two groupings and issuing each guest a passport that guaranteed a reward if fully punched at the end. And voila no long lines, no crowded/standing room only atmosphere, smiling guests and vendors, and an overall more fulfilling experience. And the hour-long reservation proved plenty of time to enjoy each offering, visit with friends, and enjoy the live music provided by Squirrel Butter. 
But let's talk about the food and drink. With a signature complimentary wine glass and a blank passport  in hand the tour begins:
From Tri-County Community College we experienced exceptional examples of the culinary skills being taught by Instructor Chef Terra Ciotta. She even shared the Thai Chicken Satay Recipe with the guests. Moving on to Rib Country the whole smoked pig was both an incredible display and incredibly delicious.
By the way Rib Country won Best Presentation again this year. The next offering was FernCrest Winery. Award winning wines offered by a smiling Jan Olson are always a hit and we saw quite a few bottles purchased by happy guests to take home. More food next, and I mean more food.
Legends Steakhouse owners Selina Jones and Cody Allen pulled out all the stops. This was meant to be a tasting or sampling but walking away from the Legends booth required a full plate. And the quality matched the quantity without a doubt. Perfectly cooked steak, fresh salad, (the best chicken and waffles I have ever tried), shrimp and grits, and even a gluten-free dessert. Yes, they won Favorite Food Vendor, actually they tied with another vendor, but we will get to that.
Time for another beverage with Hoppy Trout's Juggling Molecules IPA and some assorted wines served by the dapper and charming Ron Jenkins and his associate Alan Downey. Refreshed again, can we possibly eat more food? Why yes because the next vendor was offering an unbelievably delicious twist on his mouthwatering barbeque. David Handford, owner of Smoky Mountain BBQ created a BBQ Parfait. Layers of cornbread, beans, coleslaw, pulled and pork topped with BBQ sauce. It was crazy good. And if this wasn't your idea of yummy the smoked beef brisket with mac & cheese tacos were on deck next. And ta-dah Favorite Food Vendor! We are pretty sure Dave didn't mind sharing this honor with his neighbor on Tennessee Street (Legends). Now close to bursting we find Buck Bald Brewing Company up next just in time to wash down that BBQ. What can we say? If you haven't experienced Buck Bald's craft brews you would not understand. Owner Patrick made the experience almost as enjoyable as the brews he served. It is no wonder Buck Bald walked away with Favorite Beverage for the night.
So, what else? Dessert and coffee of course. Served up in style by Dunkin, guests enjoyed refreshing ice coffees and assorted donut holes. Perfect ending…. Well not quite because if a guest had a complete passport at this point, they could visit our Chamber Board VP Kathryn Jenkins and receive a free raffle ticket and compete for one of eleven gifts donated by our vendors and members. And closing out the experience was Black & White Market owner Keisha Dockery assisted by Courtney Herrin serving up a secret recipe libation courtesy of the Chamber of Commerce. Exiting guests had the opportunity to vote for favorite food and favorite beverage vendor. The winners of which have bragging rights until next June. 
A special thank you here to Miller Well Drilling for providing plenty of chilled water for our thirsty gourmands. 
For those unfortunate folks who missed it this year mark your calendars for the first Thursday in June 2023. You won't regret it.