HAVE YOU EVER CONSIDERED GETTING INVOLVED WITH A LOCAL COMMUNITY CAUSE WHICH WILL IMPACT COUNTLESS FUTURE GENERATIONS?
THE LEARNING CENTER EXPANSION PROJECT MAY BE AN INITIATIVE TO CONSIDER!
One of the most effective and impactful ways to INFLUENCE CHANGE is to build infrastructure and provide appropriate resources for our education system.
WHAT IS THE LEARNING CENTER EXPANSION PROJECT?
The Learning Center is a small, rural, public Charter school located just outside of beautiful downtown Murphy NC. With a strong focus as a COMMUNITY OF LEARNERS, The Learning Center operates within an E-STEAM (Entrepreneurship, Science, Technology, Engineering, Arts & Agriculture, Math) culture. Its mission is to prepare all of our students to become well rounded, productive, life-long learners in a 21st century global society.
Historically, The Learning Center offers classes for students in grades K-8…UNTIL NOW!
With the exciting announcement from earlier this year of adding a high school program, The Learning Center began offering classes for 9th grade students this year and will continue to expand through 12th grade in 2025!
To house this expansion project, The Learning Center has expanded to a SECOND LOCATION in the community for the 7th – 12th grade students at 78 Terrace Avenue!
With growth comes growing pains, and we are REACHING OUT TO OUR BELOVED COMMUNITY for support in this endeavor.
With the recent launch of The Learning Center Expansion Project, I ask each of you to consider learning more about and possibly supporting this invaluable cause! Our KIDS ARE OUR FUTURE, and together we can make it a bright one for them!
HOW CAN I HELP?
We are currently focusing our efforts on a Paint Project that will allow The Learning Center to begin outfitting the new location of the high school. As boring as paint may be to some, it is essential the right kind of paint is used in schools. Please see the information below for more information.
NOTE: We have already secured over $5,000+ in funding towards the Paint Project through several generous donations from local community members! WOW! We are now asking for your help – NO AMOUNT IS TOO SMALL – to continue the momentum in acquiring the necessary funds for our Paint Project.
If you would like to join us in this initiative, please feel free to reach out to me with any questions at steven@stevenaft.com or feel free to visit www.naturallygrownkids.org. If would you like to be a part of this important initiative, please make your TAX-DEDUCTIBLE CONTRIBUTION out to 'The Learning Center' and send to:
The Learning Center
c/o Steven Aft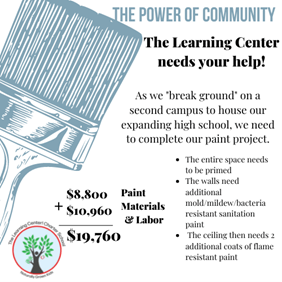 PO Box 279
Murphy NC 28906
THANK YOU again for your time and consideration in helping to learn about, promote and advocate for our youth and the future of their education!
We are so APPRECIATIVE OF YOU AND THE SUPPORT OF OUR AMAZING COMMUNITY!