In the Air with Riley - Ziplining at the Nantahala Outdoor Center
You are perched hundreds of feet above the forest floor. The silhouette of mountains on the horizon, shrouded by a thin veil of fog. A lake shimmering in the distance. A river snaking through the valley. The soothing voice of your guide, explaining the simplicity and magnificence in flight. The adrenaline of stepping off the ledge – and, flying. The piercing sound of the cable as the harness bears the weight of your body. The rush of wind on your cheeks. You are free. A magnificent view. Breathtaking. 
This week, we are taking to the skies and embarking on the Mountaintop Zip Line Tour at the Nantahala Outdoor Center near Bryson City, NC. On the zip line, guests soar high above the Nantahala River Gorge and the North Carolina mountains. The course consists of eight individual zip lines encompassing over two miles. During the adventure, guests can enjoy panoramic views of the NOC's remote 400-acre Townhouse Creek Property, Fontana Lake, and Great Smoky Mountains National Park. The highlight of the trip is the heart-stopping half-mile Mega Zip where you experience almost 1-minute of flying, 350' above the forest floor.
The Nantahala Outdoor Center is located in the Nantahala River Gorge in Swain County, NC, about 40 minutes from downtown Murphy and roughly 20 minutes from downtown Bryson City. This is a premium zip line tour with expert guides and industry-standard safety equipment near Bryson City, NC. Special thanks to our wonderful guides, Terry and Ainsley
---
Written by Riley Lachance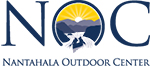 Nantahala Outdoor Center offers whitewater rafting on seven rivers in the southeast, with a variety of adventure offerings on their 500-acre adventure resort in the Nantahala Gorge.
Guests will find an entire selection of outdoor activities including rafting, zip lining, lake tours on Fontana Lake, mountain biking, hiking, multiple aerial activities, and even paddling instruction opportunities.
In addition, NOC offers riverside dining at multiple restaurants, live music events, shopping, and even onsite lodging! This outdoor mecca is one of North Carolina's most popular tourist destinations, even being named "One of the Best Outfitters on Earth" by National Geographic Adventure.