Submitted by Theresa Jo Gaffney Rotary Club of Murphy Public Information Officer
Beloved Caboose Gets a Facelift
Earlier in the summer, we asked our Rotary club members if there were any projects that we could help out with. Murphy Mayor Rick Ramsey, one of our Rotarians, mentioned that the train caboose behind the L&N Depot was looking pretty rough and needed painting. Several of our members were happy to roll up their sleeves and get to work. We had planned this as a fall project.
A few weeks ago, we found out that the painting project needed to be expedited. Mayor Rick asked if we could get the caboose painted before a certain "train meeting" occurred.
Rotary sends our thanks to Lee Mashburn for volunteering his services to help meet that deadline. Lee retired from professional painting several years ago, but chose to volunteer his time and talents to do something nice for our community. Our appreciation also extends to Joey Macaluso for helping with the lettering on the caboose.
And of course we can't forget about Lowe's and Curtis Sign Shop for their contributions of paint and the "City of Murphy" decal.
Murphy Rotary Club is happy to say that the caboose looks great again thanks to these great volunteers who helped us accomplish this task!
Before and After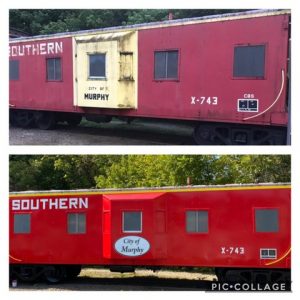 Want more information about Rotary? Contact us at murphyrotaryinfo@gmail.com, or on Facebook at https://www.facebook.com/RotaryClubofMurphy/
#HaveFunDoGood #PeopleOfAction #ServiceAboveSelf