DAY TRIPPIN': HIWASSEE LAKE LOOP
Hiwassee Lake is one of the crown jewels of Cherokee County. Whether it is fishing, swimming, boating, or just panoramic views this non-commercialized reservoir has it all. Looking for a fun drive? There is an easy loop around the lake that offers sweeping views and several access points to Hiwassee Lake as well as one to Apalachia Lake near Hiwassee Dam. The trip takes roughly 2 and a half hours depending on how often and how long one wants to stop. Photo ops abound on this day trip so take your time and enjoy. 
We started from Murphy in the '57, heading west down Hwy 64 to NC 294. This route takes you through beautiful rural countryside, past Lake Cherokee (which feeds into Lake Hiwassee) and past Hiwassee Dam Schools to Hiwassee Dam Access Road. A right turn on Hiwassee Dam Access Road takes you to the dam or if you want to lengthen your drive continue on NC 294 to the Fields of the Wood Bible Park. This worthwhile detour is just a few miles shy of the Tennessee line and the park is open daily from sunrise to sunset with free admission. There you will be overwhelmed by the largest representation of the Ten Commandments in the world. Also located here are picnic areas, nature trails, a Baptismal pool, a gift shop and a cafe rumored to have one of the best burgers in the area. Serving breakfast and lunch, it is a popular spot for the locals. And as a point of interest it is the only eating establishment in the vicinity so grab a bite before hitting the trail back toward the lake. 
Backtracking southeast on 294 you will turn left on Hiwassee Dam Access Road and meander along until you will find yourself at Hiwassee Village just just south of Hiwassee Dam. Here you will find an access point to the beautiful and remote Apalachia Lake. The boat access area allows launching just down from the dam release point. This reservoir is much smaller than Hiwassee and because of its location and fewer points of access it does not receive as many visitors as other area lakes. 
Continuing on Hiwassee Dam Access Road toward the dam you will note Bear Paw Community on the right and the Mountain View Marina can be found there. 
Mountain View Marina provides boat launching, boat rentals, slip rentals, bait and tackle, gas and oil, snack bar, various sundry items, and other services. Once at Hiwassee Dam you are rewarded with a tremendous view of Hiwassee Lake. We recommend a stop at the Hiwassee Lake Park after crossing over the dam. Hiwassee Dam is a hydroelectric dam and one of three dams on the Hiwassee River owned and operated by the Tennessee Valley Authority.
Built in the late 1930's to bring flood control and electricity to the region the dam is 307 feet high; the third highest dam in the TVA system. The park at the dam offers a pavilion, picnic tables, trails, public restrooms, and lake access for fishing and sightseeing. 
Back on Hiwassee Dam Access Rd may have noticed several signs indicating you are in the Nantahala National Forest.  This is the main reason this beautiful, deep lake is so undeveloped. Very few houses or businesses are found on it's shores. And that is not likely to change anytime soon. Stay alert for expansive views of the mountains on your left and glimpses of the lake on your right all the way to the Violet Community. Passing the Violet Baptist Church you will cross a one lane bridge and then prepare to turn right on Joe Brown Highway toward the community of Unaka. This portion of the route takes you away from the lake and tends to be a bit more winding. The views however are wonderful and the solitude is complete. Not to mention some extra fun photo opportunities along the way. 
As you wind into the Ogreeta Community you will find Shooks Marina offering rentals on pontoons, powerboats, fishing boats, kayaks, canoes, and paddle boats. Be sure and call for a reservation. Across the road from the marina you can admire a piece of nostalgia, the Ogreeta Baptist Church, established in 1895. Though much of the Ogreeta Community was lost to the lake when the dam was built, residents there have kept the area preserved and alive.
Well you are on the last stretch with approximately 12 miles back to the Town of Murphy. If you are not too tired stop in a say hi to Mike at Duke's Hideaway Marina; located on Duke's Lodge Road. Offering a boat ramp, pontoon rentals, slip rentals, gas dock, mini store, swimming area, and more. Or continue on to Hanging Dog Recreation Area. This is one of the best places to access Hiwassee Lake with two public boat ramps, a swimming area, a pavilion, picnic area, public restrooms, as well as miles of hiking and mountain bike trails. On an interesting side note there is a path off the parking area that runs out to the point. A primitive cemetery is located there. Markers indicate many of these graves date back before the civil war. 
Leaving the recreation area a right turn on Joe Brown gets you back to Murphy. Hungry yet? There are plenty of dining options around town guaranteed to satisfy whatever you are craving. Check out our website for dining and other amenities.
We see frequent visitors at the Chamber looking for a pleasant day trip, a few hours of scenic driving in the area. So we have decided in our news series to highlight day trips in the region. Many of these drives will not be supported by your GPS so we suggest downloading your directions before losing service. Of course you are welcome to come to the CCCC for an area map!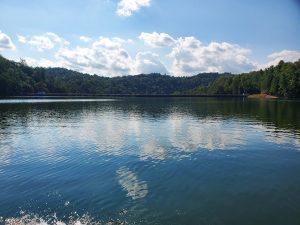 Showing off JR's '57 Chevy Apache, nicknamed, Mistress.