Rotary Club of Murphy's 2020 Golf Tournament For Champions
***** FOR IMMEDIATE NEWS RELEASE *****
It was the perfect day for a Golf Tournament! Saturday, July 25, 2020 the Rotary Club of Murphy held its "2020 Golf Tournament For Champions" at the Mountain Harbour Golf Club in Hayesville. With big blue skies above and beautiful green hills below, 33 teams teed off at 9:30 a.m. to compete for the cash prizes. There were also additional awards for "Closest To The Pin" and "Hole-in-One".
The Golf Tournament is an annual fundraiser for Rotary Club of Murphy. 100% of the proceeds are used to help support our community endeavors, such as local high school scholarships, H.A.V.E.N. Children's Advocacy Center, WNC Shrine Club, Toys For Tots, REACH of Cherokee County, Big Brothers/Big Sisters of Cherokee County, Shop With a Cop, Alzheimer's Research, Boy Scouts, Murphy Hometown Christmas Celebration, and internationally, Polio Eradication.
Rotary Club of Murphy would like to extend our warmest thanks to all of our wonderful sponsors who gave so generously to this event, to the participants who made it so much fun, and to our community for our tremendous outpouring of support.
Our next Golf Tournament will be held in the Spring, 2021. Want to be part of it? Contact our Rotarian Golf Committee members:  Matt Gutierrez (828) 399-1266 or Scott Freel (828) 361-1297.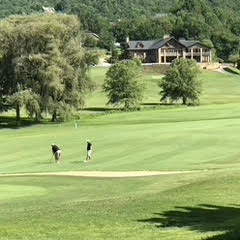 Nestled in the Nantahala National Forest in the beautiful Blue Ridge Mountains, this player friendly course designed by renowned architect, Willard Byrd, is truly a hidden gem. Developed in 1992, this 18-hole championship layout is carved into the surrounding valley and mountain with natural creeks navigating through the enchanting terrain. Breathtaking 360 degree mountain views top off the Ridges Country Club experience.
For more information on this venue, see the Mountain Harbor Golf Course Directory Listing.