The Number One Reason to Optimize Your Website for Google Search 
Guest Post - David Hendrix, Base Note Labs
Here's the deal — people want to see your website. They just don't know it's there (yet!).
SEO, which stands for "search engine optimization", is all about getting in front of people online. Because one of the worst things that can happen as a business owner is spending a ton of time and energy building a website...and then nobody visits it. 
When you've got an SEO game plan in place, it's like having a systemized strategy for increasing the amount of visitors to your website and making sure they're a good fit for your business. And I know you might be thinking but I want everyone to visit me! But let's back up for just a sec. Someone who is looking for sleek laptops, landing on your website where you sell heirloom apple seeds, isn't going to increase sales. Are they? But the person who's looking for seeds (or a custom screen printed t-shirt, or handmade soaps, or the best family photos this side of the southeast) is going to know that your THE person who they want to do business with because they found you based on what they were already searching. 
Don't worry about
 the amount of people coming to your website. That's the old way of doing things.
That mentality comes from "casting the net wide" and hoping a few ideal customers notice you. It completely ignores the importance of quality, primed, and ready-to-work-with-you traffic. SEO allows you to target the right kind of visitors, ones that are looking for exactly what your business does. 
It's honestly amazing what can happen in your business when you have an SEO strategy in place! While it can be tech-headache inducing sometimes, and isn't quite as glamorous as posting on Instagram, it's so important to get everything squared away so people know you're on the web and ready to do business. 
Take it from us — we got a call from a studio in LA who wanted to do an interview on LIVE TV about our business. And they found us through Google. Not by following us on Facebook, not by having pages and pages of info…through Google search. 
We're covering the number one reason to optimize your website for Google search below, but if you'd like to dive deeper we've put together a FREE guide for you that includes our best tips and tricks for getting found online. All you need to do is head to our website, give us your best email, and we'll make sure it lands in your inbox. 
Optimized SEO Increases Your Visibility
Think of Google like a giant highway with buildings up and down both sides. Some of those buildings are businesses, some are churches, some are schools...you get the idea. Now, imagine you need a new drill. You'd probably hop in your car and start looking for a hardware store right? Google search makes it to where consumers can easily find businesses like hardware stores — whether they sell online or in-person at a brick and mortar shop — instead of endlessly "driving" around. 
Now, imagine your business is one of those buildings along the highway. You've got the best drills in town and you offer a 30-day money back guarantee. You'd probably put a sign up on your building that says you're a hardware store right? And then maybe you'd put a sign up in the window that says you have drills you can test out in the store. Maybe you'd even mention that you offer a 20% discount to licensed contractors. 
That's what optimizing your SEO does. It puts a "sign" on your website so that folks know who you are. It also lets you distinguish what makes you different from everyone else that has a similar sign. That way, when someone "drives" up, they know they want to do business with you. 
If you're ready to get more eyes on your website, and feel less stressed doing it, we'd love to share our FREE guide to getting found online. It's an easy-to-use zero fluff checklist of our best tips and tricks for showing up in Google search! 
If you'd like to work with us on optimizing your SEO and growing your business online, we teach workshops through Tri-County Community College's Small Business Center in Marble. Get in touch with Kathryn Jenkins at (828) 835-9564 or head to the Small Business Center website to register for free. 
Your ultimate "zero fluff" plan of action to get more eyes on your website.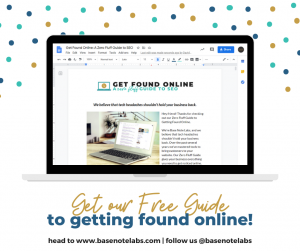 Learn our systemized strategy for increasing the amount of visitors to your website and making sure they're a good fit for your business.