Local Hospital Gets Top Honors
For Immediate Release: 8/10/20
Erlanger Western Carolina Hospital named among 25 top safety-net hospitals in the U.S. by Washington Monthly Magazine
Murphy, N.C. – Erlanger Western Carolina Hospital (EWCH) was recently named one of the 25 top safety-net hospitals in the U.S. by Washington Monthly Magazine.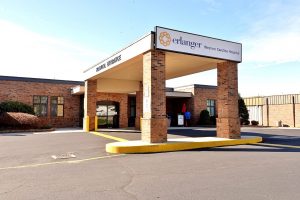 In partnership with the Lown Institute, a non-partisan healthcare think tank, Washington Monthly Magazine released a ranking of the "100 best safety-net hospitals for America." The ranking is based on performance in three categories: patient outcomes, civic leadership and value of care. According to the Washington Monthly website, the magazine ranks hospitals on "how well they save lives, save money and serve everyone.
"We are honored for this recognition from Washington Monthly Magazine," said EWCH CEO Stephanie Boynton. "As part of the essential Erlanger Health System, EWCH strives to provide exceptional care for everyone. We are proud to serve as one of the few safety-net hospitals in western North Carolina."
For more information about EWCH and the communities it serves, visit erlanger.org/westerncarolina.
###
Erlanger Western Carolina Hospital
Erlanger Western Carolina Hospital provides world-class, patient-centered care for a seven-county region in Western North Carolina, North Georgia and East Tennessee.
3990 East Hwy U.S. 64 Alt Murphy NC 28906
(828) 837-8161
Directory Listing