Let Safety Be Your Guiding Principle
Considerations for farm, food, and agritourism related industries navigating reopening businesses and restarting of the economy.
Thursday, June 11, the Chamber staff once again attended an informative webinar sponsored by Visit NC Farms.  Dr. Ben Chapman, Food Safety Specialist with NC State, spoke on the topic, "How to help your customers know that your farm is following health and safety best practices so that they feel positive about visiting." Even though the participants were mainly owners of farms and agritourism related industries, the principles discussed could be applied to any business, especially those related to food.
Chapman stressed that there have been no reported cases of a person getting COVID-19 by eating food. However, he cautioned that while COVID-19 is not a food safety issue, coming in contact with high-touch surfaces, handling utensils, serving people, and people waiting in areas or dining in enclosed spaces present real issues for food-related industries.
Going on the Offensive in Promoting Safety
Chapman recommended that businesses "get in front of the situation'' by letting patrons know what their establishment is doing to ensure everyone's health and safety.
"You don't want your business to be the one where it [an outbreak] starts." 
For example, he encouraged business owners to create a well-defined SOP or Standard Operating Procedure for staff and patrons that spells out how to handle things like sanitizing hands, how to serve patrons, how to arrange seating to minimize contact. Clusters (outbreaks in a given area) happen where people congregate. 
Not only was setting guidelines strongly encouraged, but also enforcing them with staff and patrons. Setting house rules and letting patrons know that if they're feeling sick, or may have come in contact with someone who is showing symptoms it is best to wait before enjoying that usual dine-in experience with your juicy steak, your cold beer, or your spot on the karaoke soundstage.
Chapman acknowledges that it's a difficult conversation to have with a customer who insists on not complying with the house rules, but other customers will take note. Patrons will learn quickly and spread the word of which businesses are going on the offense to take care of customers, and which ones are falling down on the job.
For the Safety of Patrons
Any business that entertains a crowd and has waiting or congregating areas should make it a priority to set guidelines on how crowds will be managed. Give forethought to how crowds will convene, how they may swell, how they navigate a space, a restaurant, an arena. Identify the bottlenecks for staff as well as patrons, and then take steps to minimize close contact by having disinfecting/sanitizing stations at designated and appropriate locations.
For the Staff
Prevention is always the best policy as it goes a long way in helping reduce the possibility of an outbreak. Employers are urged to make sure employees know what is, and how to use, appropriate Personal Protective Equipment (PPE); and how to properly sanitize and disinfect equipment, and high-touch surfaces.
A good SOP will clearly spell out how to address an employee who is exhibiting symptoms, or an employee who is NOT exhibiting symptoms but has been exposed to one who is. There should be procedures in place to help employees seek testing, understand self-isolation and quarantine, and lay out guidelines for returning to work.
Another suggestion was cohorting staff by keeping shifts and team-members consistent. In the event that someone is at risk, or exposed, an entire workforce doesn't have to be compromised. 
Chapman strongly cautioned that "there was no magic bullet, no specific guidelines for how to handle such situations for each business."
Count on Me in NC
Count On Me NC is a public health initiative that, according to their website, "empowers guests and businesses to help keep everyone safe from COVID-19". Training modules are designed to ramp up knowledge for owners, front of house and back of house staff. Certificates are issued for successful completion and a social media toolkit with assets to display for patrons to see how your business values not only their business, but their health.
Forging ahead with a new normal. "Different. Not Difficult."
Agritourism Marketing Specialist, Annie Baggett concluded with this expression to help attendees recognize that the current crisis may be around for some time. Businesses that are equipped to meet the challenges with a mindset for adjusting to changes will be around for the long haul.
-written by Ronda Birtha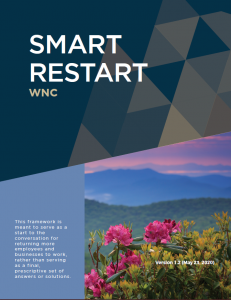 *Adapted with permission from the Asheville Chamber of Commerce, 
---