Summer Tourists are eager and cautious to hit the road? 
How do we bring travelers back to the mountains and help them feel safe?
On June 10, Chamber staff attended a webinar led by Marlise Taylor, Research Analyst for Visit NC. Taylor shared research that shows the past, current, and projected travel-related trends for the southern region, including our state. 
The takeaway from this meeting was measured optimism for rural areas like ours. Because of the continued uncertainty of COVID-19 exposure most folks are less likely to select heavily populated areas or events for a getaway. Also data revealed many travelers are anticipating mini-vacations, "stay-cations" and day trips just under 400 miles from wherever home may be within our region. This is great news for local businesses that rely heavily on tourism.
So how does our region attract those travelers? 
Advertising you may say. But how to hit the mark with advertising and marketing is the question. The current statistics discussed by Visit NC seem to indicate that eager tourists will research their destinations more thoroughly before committing to a trip. The Visit NC team recommended that advertising be honest, friendly, humble, and direct. But with an emphasis on respecting the health and safety of visitors.  
So let's face it, there is a lot of information out there and some of it is confusing, and many people are still expressing concerns about their safety. The important thing for business owners to keep in mind is allaying those fears. Doing so can make the difference between someone booking a stay at your cabin, dining in at your restaurant, pulling up a seat at the bar - or passing you by. 
Let's remind our visitors that this region is known for its hospitality. By putting our best foot forward and making Cherokee County and this region a number one travel destination for 2020. 
Free resources to help you welcome and reassure your visitors
Please take the time to explore the following Free resources to help make your business and our community part of the success story. 
Through our relationship with the Asheville Chamber of Commerce we gained access to some of their resources to provide a comprehensive Smart Restart - WNC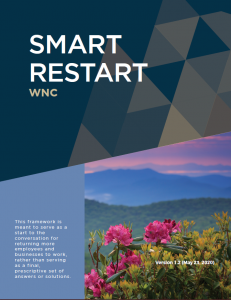 Additionally, become a "Count on Me NC" business by completing these simple training courses. The "Count on Me" program is a joint effort created by NC government and health officials in partnership with industry leaders from across the state. You will be provided with a certification upon completion to be displayed at your business and continued access to resources to help navigate the continued updates.
Don't just let visitors know you're open. Let them know you care.
Letter from the Executive Director